class="medianet-inline-adv">
As the echoes of the Liverpool – Real Madrid Champions League final played yesterday in France continued, major events broke out in the disputed match between Auxerre and Saint-Etienne.
Saint-Etienne, the club with the most championships with Paris Saint-Germain in the history of the French Ligue 1, faced Auxerre in the play-off match at the Geoffroy Guichard stadium.
2nd League side Auxerre beat Saint-Etienne 5-4 on penalties in the fight, which ended 1-1 in regulation time and extra time, and managed to climb into Ligue 1 after a break 8 years old.
AUXERRE MOUNTS, SAINT-ÉTIENNE LIBERATED
Auxerre were the third team to be promoted to the French Ligue 1 after Toulouse and Ajaccio, while Saint-Etienne were relegated to a lower league.
class="medianet-inline-adv">
Saint-Etienne, one of the two most successful clubs in France, was again relegated to the lower league after the 2003-04 season, and the fans took to the pitch at the end of the match.
THE STADIUM FIRE FAN
The Saint-Etienne supporters, who entered the field with torches, attacked the players of the opposing team and the security forces, causing a mess.
Saint-Etienne fans attacked the tunnel leading to the dressing rooms with torches and fireworks, while players and officials in the tunnel risked being burned.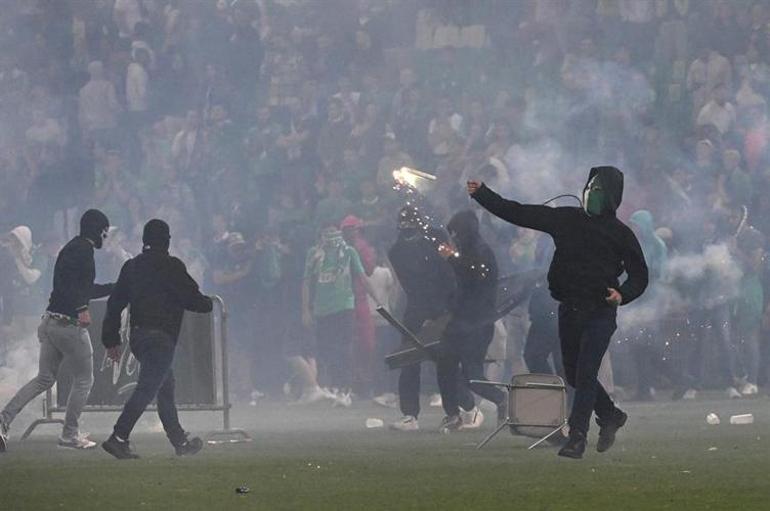 EVENTS MADE IN THE CHAMPIONS LEAGUE FINAL
During the Champions League final played in Paris yesterday, while there was a clash between fans and security forces, a security breach occurred and the Liverpool – Real Madrid final was postponed 3 time.
Ahead of the game at the Stade de France yesterday, when nerves between fans and law enforcement were strained, many fans entered the stadium illegally.
While French police struggled to calm the events, child carers were also affected by the pepper spray they used. After the final, which started with a 36-minute delay and numerous scandals, a serious security breach occurred and an investigation was opened.
class="medianet-inline-adv">
PARIS CALLS ON UEFA
Britain's Culture, Media and Sport Minister Nadine Dorries said thousands of ticket holders traveled to Paris to support their team, adding: "We have raised UEFA, in coordination with the stadium staff, the French police, the French Football Association, Merseyside Police and Liverpool Football Club, on what went wrong." I urge you to open an official investigation." He called UEFA with his words.
Fans go wild in relegated Saint-Etienne

Saint-Etienne relegated after losing to Auxerre on penaltiespic.twitter.com/CIbj4Qr4rd

— Sports arena (@sporarena) May 29, 2022