Economist İbrahim Turhan shared his view on what will happen saying "It won't be like that" about the harsh collapse expected to occur at the end of the current economic situation.
Economist İbrahim Turhan said everyone expects a big collapse in line with the current course of the economy, but he disagrees. Turhan listed the reasons for this on his social media account item by item.
The predictions shared by İbrahim Turhan are as follows:
"There have been economic crises in the past. Those who remember them expect it to get worse for a while and then crash down sharply. However, the situation we find ourselves in is different. It won't be not like that. So what will happen to us in the coming period?
First the reasons for this illusion:
We have become accustomed to an average inflation of 8.5% over the past 15 years and an environment where the exchange rate remains between 1.50 and 3.00. Although the exchange rate has risen from time to time, it would come back, at least the rise has stopped. Inflation was still there, but the monthly price increase was 0.7% between 2003 and 2017.
With the presidential system of government, the state tradition that has endured since the Tanzimat period has been destroyed. Institutional memory, state intelligence, balance and control systems have lost their functions. Decisions were made with instant reflexes to save the day. It created a rift.
The USDTRY rate, which was 3 at the beginning of 2017, fell to 6 in two years. At the start of 2022, it was 13. Inflation, which was 19 at the start of the rate cuts, will be 80 this month. And this situation is now permanent… This is what caused the parse error. We think it will be the same as before, but it's different.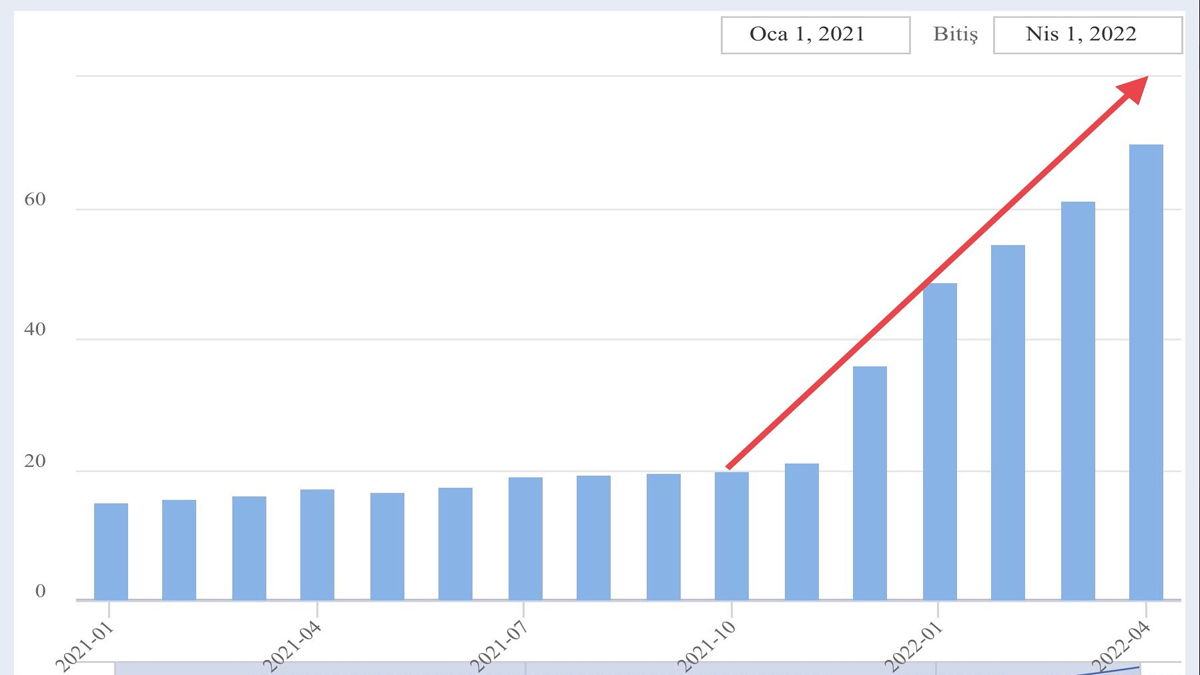 Forget the experiences of the last 15 years. Inflation is now self-sustaining and solidified. Inflation will continue to stay above 50% unless monetary and fiscal policies turn towards restoring price stability.
The monthly price increase will be 4%, not 0.7% as before!
As businesses and individuals adjust to inflation, this vicious circle will become more rigid. Exchange rate hikes will also become commonplace. The USDTRY rate (in old currency) was 3 thousand in January 1991, 5 thousand in December 1991, 50 thousand in October 1995, 250 thousand in May 1998, 530 thousand in December 1999.
There are several answers to the question "Why isn't there a big crash":
a. Unlike 1994, public finances are still at a sustainable level. In other words, the Treasury can still borrow in the market and make critical payments such as debt repayment or salaries on time.
2. Even though the banks went through a big disaster last December, they can handle the situation now, unlike in 2001. They have cash to meet their obligations. They are not able to go bankrupt because of the rising exchange rate.
3. Since wage increases come with a lag after inflation, there is no automatic indexation, and the Central Bank does not finance Treasury expenditures or debts by printing money, the hyperinflation (50% or more monthly inflation) does not happen. Chronic inflation is high.
4. As the distribution of income is very bad, about 15 million people who can adjust their income to inflation and who are rich continue their consumption. Export and tourism earnings contribute relatively to this compared to the situation in the 1990s.
5. Global conditions are different than they were then.
"THE MEASURES TAKEN DISRUPT OTHER PLACES"
Even if there is no sudden collapse, this does not mean that we "manage the situation like that"! The state of the economy is similar to a patient in intensive care who does not die suddenly of a heart attack, but whose vital functions gradually deteriorate in a vegetative state. Every day, a problem occurs in an organ. The measures taken disrupt other places.
a. The Treasury has not defaulted, but financing conditions continue to deteriorate. The burden of debt and interest payments is growing. Public debt has increased by TL 950 billion since the start of interest rate cuts. The budget deficit is increasing. The possibilities of borrowing abroad are also diminishing.
2. Banks' rate of return is lower than inflation. This means that bank capital is melting in real terms. It is not in vain that the market value of many banks has become equal to their profits for 2-3 years. The credit mechanism is very problematic. Banks are constantly interfered with.
3. The KKM or planned inflation-protected product may harm the financial viability of the Treasury. Problems may arise in state-owned energy enterprises or public investment payments. At some point, there may be a perception that "there is no other way out but to use the Central Bank facility". Inflation-currency increase-more inflation-new cycle of exchange rate increase may occur. If FX intervention continues, reserves could drop to critical levels in a short time. The external balance is not sustainable as it is. The latest movement in exchange rates is a sign of this. Although the equilibrium has been reached for the moment, it is not permanent.
4. Poverty is spreading like an epidemic. We will see a slowdown in demand. Exports will decline this month. Don't be fooled by the 6% growth we will see in the first quarter. The situation is deteriorating rapidly. The economy is entering an environment of high inflation and low growth.
5. We know that global conditions will continue to deteriorate and market sentiment will deteriorate. Global demand will decline. The effect of the tightening of monetary policy that continues around the world will be felt. Here too, a new and difficult period is beginning.
CONCLUSION
Autumn seems more difficult than today. We will live with inflation. The question "when will it end" is meaningless. We have entered a new era. The crisis of the economy; The "coma" model, not the "heart attack" model. Know that it will take a while.
There is an economic crisis in the picture. But the problem is not really economic. It's a crisis of management and mentality! The economy is in this situation; Arbitrary management, snap decisions due to politics, ignorant and incompetent staff, who turned a deaf ear to economic knowledge and common sense. The solution lies in the management system."
There have been economic crises in the past. Those who remember expect a period of deterioration and then a drastic collapse.
However, the situation in which we find ourselves is different. This will not be the case.
So what will happen?
What awaits us in the coming period?

— Ibrahim M. Turhan (@ibrahimmturhan2) May 29, 2022